Product of The Month:
Spearmint Farms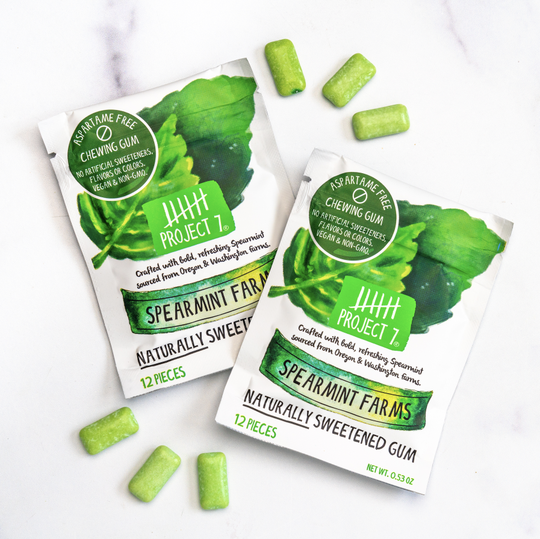 Chew On This!
It's tough to beat the fresh picked taste of real mint - crisp, bold, and refreshingly fragrant - it's intoxicating.
Spearmint Farms is our ode to mint & the farmers who grow it. We sourced real spearmint from family farms across Oregon's Willamette Valley just for this special recipe.  We hope you enjoy it in good health, and with fresh breath!
Sugar-free
Aspartame-free
Long-Lasting
Non-GMO

Naturally colored with spirulina & turmeric
Made with real spearmint from American farms

Our founder, Tyler Merrick, keeping it fresh at the mint farms in Oregon
What is aspartame, and why should I avoid it?
Aspartame is a common sweetener found in many "diet" foods - but is it really as good for you as you might think? Perhaps not. While aspartame is an FDA-approved ingredient, studies by the American Cancer Society, among other research groups claim that there may be a link between aspartame and other chronic ailments.
Xylitol, on the other hand, provides roughly the same amount of sweetness as table sugar, but has fewer calories and does not spike blood sugar in the same way. Xylitol is also naturally occurrin gin many fruits & vegetables, and has been researched for it's potential dental health benefits.
Where is your spearmint from?
Our hand-picked spearmint is sourced from family farms in Oregon & Washington. We take it a step further by making all of our gum right here in the good ol' US of A. It's a difference you can taste.