Something sweet is coming...
...and we wanted you to be the first to know.
Sign up below to be one of the first 100 customers to try our new Original Licorice Twists!
The nostalgia is real with the latest addition to our low sugar line-up...
We're thrilled to introduce you to our new
Original Licorice Twists.
Original Licorice Twists are our plant-based take on the original rope candy we all know and love.
We applied our magical formula to bring you this childhood favorite with 95% less sugar, but all of that classic licorice taste!
Get 'em while they're hot - they're going to go fast!
95% less sugar
Why did Project 7 make the switch to low sugar?
Let's get real for a second. Sugar is way too common in American foods. In fact, over 80% of Americans are looking to reduce or eliminate processed sugars completely from their diet.
But there's one problem with trying to eliminate sugar: who wants to give up candy?! Not us! Candy is a gateway to our childhood - something we're just not quite ready to give up yet.
So we've set out to make it easy for Project 7 fans to make the switch away from sugar, without having to eliminate all of your favorite guilty pleasure snacks.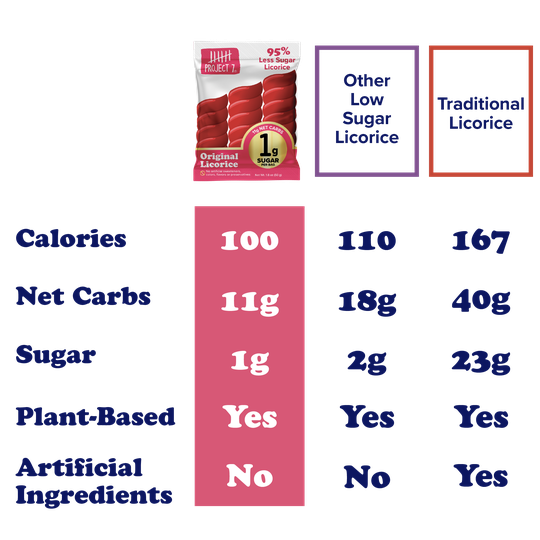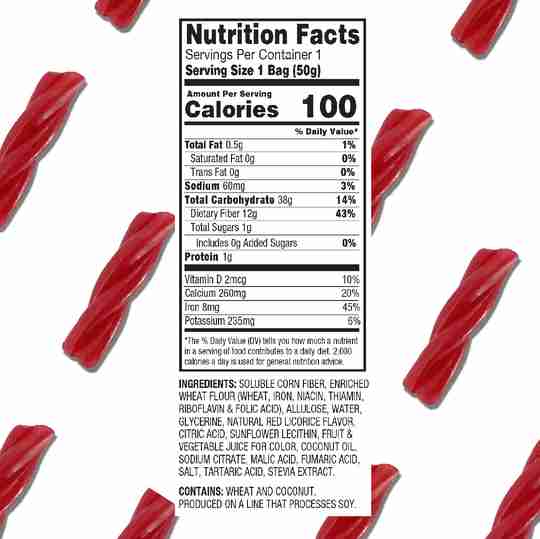 Our magical formula
Sugar is a cheap filler ingredient that provides little-to-no nutritional value, and leaves us feeling hungrier than we felt before we grabbed that candy bar from the vending machine.
So...how do you eliminate sugar, but still make classic red licorice taste good?
We spent more than 2 years working with some of the best nutritionists and food scientists to find a way to eliminate more than 90% of sugar, and replace it with better-for-you premium ingredients so that you can enjoy all the candy without any of the guilt.
Sweet tooth acting up?
Shop our 4 best selling low sugar gummies now! Low Sugar Sour Worms
3g sugar per bag

6g net carbs per bag

Only 60 calories per bag!

Plant-based & vegan

Free from IMO, maltitol, sugar alcohols and inulin

19g fiber per bag

Made with natural colors and flavors

No artificial sweeteners or preservatives

Crafted with magic and love Low Sugar Gummy Bears
3g sugar per bag

6g net carbs per bag

Only 60 calories per bag!

Plant-based & Vegan

Free from IMO, maltitol, sugar alcohols and inulin

18g of fiber per bag

Made with natural colors and flavors

No artificial sweeteners or preservatives

Crafted with magic and love Low Sugar Sour Apple Rings
3g sugar per bag

6g net carbs per bag

Only 60 calories per bag!

Plant-based & Vegan

Free from IMO, maltitol, sugar alcohols and inulin

18g of fiber per bag

Made with natural colors and flavors

No artificial sweeteners or preservatives

Crafted with magic and love Low Sugar Sour Fruit Gummies
3g sugar per bag

6g net carbs per bag

Only 60 calories per bag!

Plant-based & vegan

Free from IMO, maltitol, sugar alcohols and inulin

19g fiber per bag

Made with natural colors and flavors

No artificial sweeteners or preservatives

Crafted with magic and love